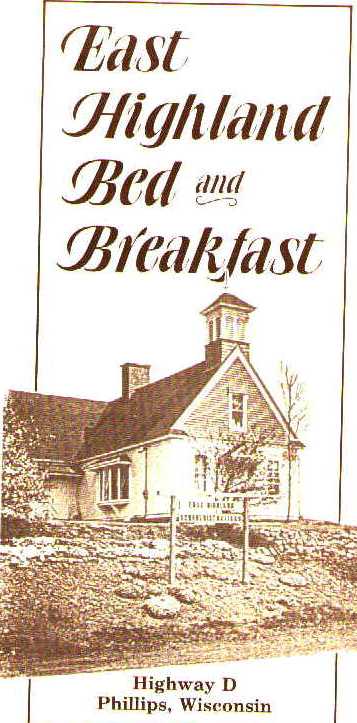 A Place
With A Difference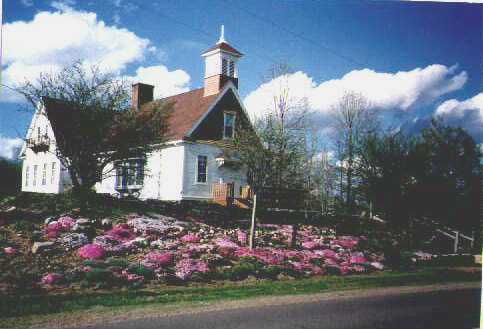 ---
Would you like a place to stay with a difference?
A warm home atmosphere?
---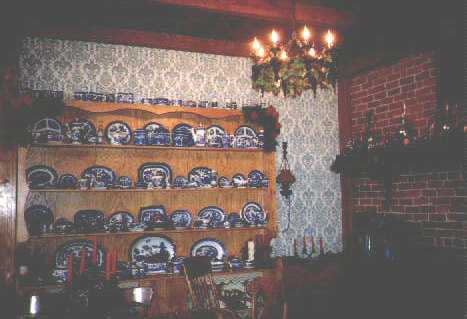 ---
How about a Bed & Breakfast?
East Highland
Bed & Breakfast
is just that!
Relax in an atmosphere of the past in a building which once served as a seat of learning for the children of the Town of Emery. It has been remodeled by your hosts into a unique home reflecting the era of its beginning, the early 1900's. It is furnished in the style of 100 years ago, with antiques handed down in the family or acquired in the area.
If you would like, you'll be given a tour and history of the building and its contents, which includes dolls, china, stoneware, trinkets and other collections. You can ring the original old bell used to summon the children to classes.
The living areas of the house are all yours to use. Breakfast menus are varied and the meal is served either in the large beamed dining room or the cozy kitchen.
Take a walk in the surrounding woods, enjoy the varied wildlife that comes to the feeders. The owners also run a nearby farm you can visit if you wish, or if you have an ATV you can ride the woods trails on the farm or the county trails.
In the winter you can unload your snowmobile in the yard and you're on a trail that is part of the county's 500 miles of groomed trails. If you prefer cross country skiing, the area boasts some good trails.
If fishing is your desire, the Phillips Chain of Lakes has excellent musky fishing. Nearby Musser and Solberg Flowages offer walleye, northern pike and panfish. The little Elk River which is a trout stream, runs just north of the school. Price County has numerous trout streams crossing it, and a state licensed guide is available for your hunting or fishing excursions. The county is noted for its black bear hunting.
Phillips has a golf course, tennis court, swimming pool and there are several swimming beaches in the area.
If you enjoy flea markets, Tomahawk, Minocqua, Hayward and Ladysmith all have nice ones and area towns have garage sales and antique shops. The area also has interesting museums filled with local history. If you're a history buff you'll find your hosts knowledgeable about local history.
In the fall you'll have a special treat when the forested hills surrounding the school don their fall colors. In the spring the same area is carpeted with spring flowers.
Your stay can be as restful or as challenging as you like but always enjoyable.
---
For more information
And reservations
Call or write to:
East Highland Bed & Breakfast
W4342 County Road D
Phillips, WI. 54555
Phone: 715-339-3492
---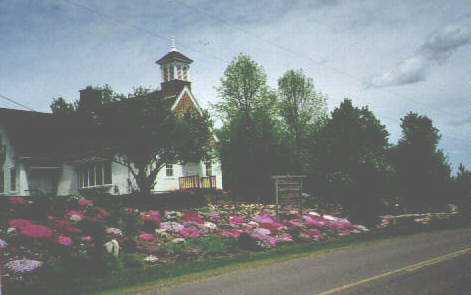 ---
Rates:
Single:
$45.00 Shared bath
$55.00 Private unattached bath
Double:
$50.00 Shared bath
$55.00 Shared bath
$60.00 Private unattached bath
Prices include a large varied breakfast. Reduced weekly rates are available. Deposit equivalent to one night's lodging required when reservation is made. Cash or personal checks only. Notice of cancellation 5 days in advance of reservation date for refund. Non-smoking building. Children over 10 years of age please.
This is also the home of a heart-stealing dog named Friskie and Misty, the illusive cat.
Your Hosts:
Jeanne & Russ Kirchmeyer
W4342 Co. Rd. D
Phillips, WI. 54555
Phone: 715-339-3492
Email can be sent to the webmaster Buz Pearson
It will be delivered to the Kirchmeyers
---
---