---

---
Are you in need of work?
Maybe you would like to see what jobs are out there
and compare them to your own job?
If so . . . .
---

---
This page may load slow do to number of pics.
If you like there is a copy of this page with no pics.

And Welcome


To Our Town
Phillips, Wisconsin
Price County......Northwoods, USA
Your Vacation Waiting For You!
---

---

---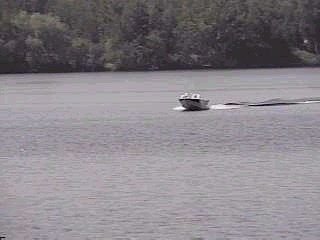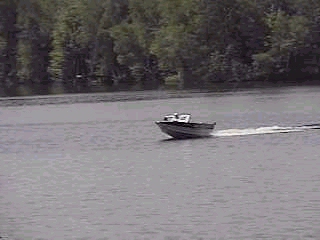 ---

There is another, more official webpage
which I believe was placed by the Phillips Chamber of Commerce.
Their web page address is:
http://www.phillipswisconsin.org/chamber_members.htm
For Phone Info Call:

Or you can write snail mail:
Price County Tourism Dept.
County Courthouse
126 Cherry St.
Phillips, WI.
54555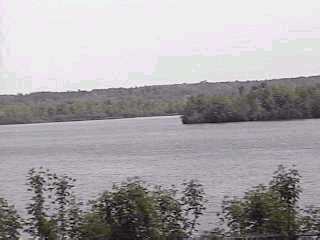 ---
Come and enjoy this wonderful land. Fish, hunt, swim, boat, water ski, enjoy ATV trails.
---

See historic Round Lake Logging Dam,
and view the concrete and glass art of Fred Smith!
---
Enjoy the food, sights, and sounds
of the Czechoslovakian community Festival.
---
YEAR 2000 Czech-Fest

Pics of the 17th Annual Phillips Czechoslovakian Community Festival
And Mss. Czech-Slovak Wisconsin State Pageant
are now on line.


---
Camp, Hike, Snowmobile, Cross Country Ski.
Visit Old Town Hall Museum,
and see display of the logging days of Price County.
---
Just Come.......Relax and Enjoy!!
---
Hello Friend,
You have surfed the "World Wide Web" right into the Northern Wisconsin town of Phillips WI and I welcome you. You can call me Buz and I am here to guide you around this marvelous section of America.
Price County Wisconsin and the City of Phillips are located in the heart of Wisconsin's Northwoods.
Price County lays in a rectangle, 31 miles by 42 miles, and covers 1,268 square miles, or more than 800,000 acres. Of that 800,000 or so acres approximately 18,000 acres is covered by water. The Chequamegon national Forest covers 147,000 acres, State owned lands cover 28,500 acres and County owned lands 90,000 acres. Also there are about 44,000 acres in forest cropland. In other words: There are in excess of 310,000 acres open to the public.
Here you can find four seasons of fun. In the summer, hike the many miles of trails found through out the country. Fish for Northern and Walleye Pike, Muskie, Trout, Bass, Perch, Bluegill, and for 1-1/2 months beginning about September 5th, go for Sturgeon. Bring your cameras and hunt through the summer and see how many of the abundant wildlife found here can be captured unto your film. Bring your ATV or dirt bike and explore the many miles of motorized trails waiting for you.
Bring your boat and enjoy water skiing, and boating. Bring your canoe or rent one locally and try out the North and South Forks of the Flambeau River. Bring your bikes, road and mountain, and travel many miles of biking trails or follow our county and township roads and enjoy the sights.
Bring your appetite to, and schedule your trip to take in the Czechoslovakian Community Festival, or the Price County Fair.
Of course bring your swimsuit. There are two public beach areas located near town and some resorts have beach areas as well.
Don't forget your tent, or rent a cabin on a lake. You could also stay at the East Highland Bed and Breakfast just a few miles outside of town. This location holds a special place in my heart because it was the two-room school where I attended as a boy.
You will need to visit our Wisconsin Concrete Park. This is a legacy left to us by a man named Fred Smith. Fred created from concrete, wire, broken glass, and mirrors sculptures and mosaics. More than 200 pieces of unique art came from Fred's arthritic hands. He had spent 50 years as a logger and farmer and also built a stone tavern located next to the park. Included among these sculptures is a magnificent eight-horse team and beer wagon. Come and see, because you will enjoy.
---

---
When fall comes around bring your bow, and guns. Call ahead and check the exact dates for deer bow hunting, Black Bear hunting, duck, goose, grouse, and deer gun hunting. The Chequamegon national Forest, Flambeau River State Forest, our county forests provide a wide area to hunt. Many trophy deer and bear have come out of Price County.
Of course fall is not just for hunting. I mentioned the Sturgeon fishing and you can still camp and hike. Take a fall color auto or bike tour. September brings to Price County brilliant color during the onset of fall. Travel by auto or bike, our extensive network of lightly traveled state, county and forest roads and bring that camera because you will be delighted in the scenic beauty created by the reds, yellows, oranges and golds.
This may also be a good time for another canoeing trip down the Flambeau.
Oh, you will need to visit the Old Town Hall Museum in Fifield. The old Fifield Town Hall served as a government building from 1894 until 1967. It now houses artifacts from the logging days of Price County from 1879 through the 1930's. Exhibits include logging tools, camp artifacts, railroad memorabilia, a Victorian period living room, and kitchen, a collection of household and personal items and changing exhibits.
---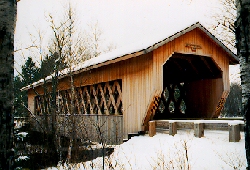 Smith Rapids Covered Bridge is another must see sight. The Smith Rapids Covered Bridge is the only glue-laminated town lattice covered bridge in Wisconsin. Adjacent to the bridge is the Chequamegon National Forest's Smith Rapids Campground. This rustic campground features equestrian sites for visitors to enjoy the Chequamegon national Forest River Saddle Trail on horseback. In the winter snowmobilers can access the bridge off of Price County Snowmobile Trail #101. There is also the Round Lake Logging Dam to see. The Round Lake Logging Dam is one of the last remaining structures of its kind in Wisconsin. It stands as testimony to Wisconsin's lumber boom of the 1800's.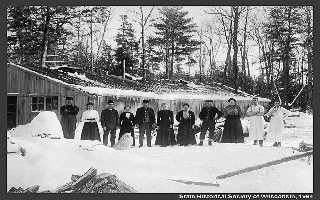 Originally constructed in 1878, the wood dam was the site of numerous spring log drives.
During the winter months lumberjacks cut huge timbers and hauled them via ice roads upon horse-drown sleighs to Round Lake for storage.
In the spring the dam was opened and the logs were sluiced through the dam on their long journey to sawmills along the Wisconsin, Chippewa, and Mississippi Rivers.
---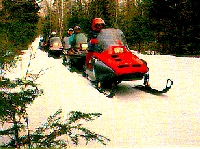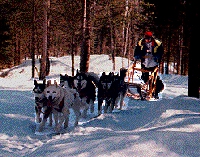 ---
Winter is the season when Price County shines.
Price County is considered one of the premier snowmobile areas in Wisconsin. With 500 miles of meticulously groomed trails.
You don't have to have the nose of a motor however. Price County has 12 cross country ski areas that are maintained for your winter enjoyment.
---
Come on up and visit with us.
Come at anytime of year!
You will love these Northwoods!!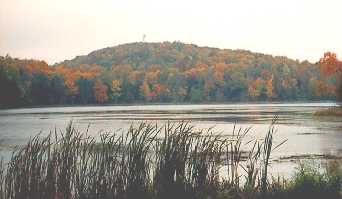 (Tim's Hill)
---
for another page with pics of Phillips area, and by following the links you will find several pages of pics from the 1999 and 1997 Czechoslovakian Festival held in Phillips each June.
---
Clink This Link for the Chambers Calendar of Events Page
http://www.phillipswisconsin.org/calendar.htm
---
Just about 12 miles south of Phillips on the crossroads of hwy 8 and hwy 13 there is the town of Prentice Wisconsin.
This link will take you to a page with pics of the
Prentice Progress Days celebration.
---
---
---

Email: Buz Pearson buzpearson@lycos.com



---
---