Hello My name is Barbara
And this is
Buzzy & Barbara's Web Page
---
---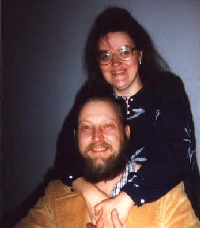 That is Buzzy with me on a good day.
Below is Buz after a night on the computer!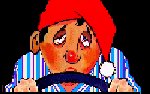 Buz and I are from a small town in northern Wisconsin, (Phillips). Actually for our area I guess we really are medium in size, between fifteen and sixteen hundred folks. I'll tell you more about Phillips later. We are Christian and attend a small Baptist Church in a storefront right on the main street in Phillips. That is Maranatha Baptist Church. Scott Jones is our pastor. This is an independent, autonomous Baptist Church, teaching that Jesus Christ is Lord and the Bible being His verbally and plenary inspired Word.
Pastor Jones has a webpage, which has nothing but the King James Bible in it.
Here is a link to that page: http://www.geocities.com/Athens/7276/index.html
---
Since I am giving out links. I suppose that I will give you a link now.
This is to a webpage that Buz has written for our town and county.
http://members.tripod.com/~buzpearson/Phillips.htm
---
We have five kids, Daniel 18, Mary 16, Paul 14, Joe 12, and Don 10.
That is Mary.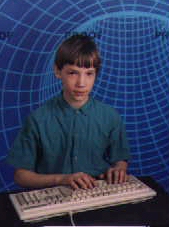 And there is Paul.
And then that is Donald!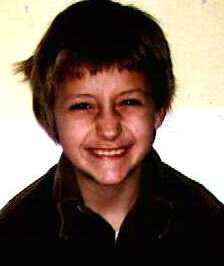 Here comes Joe!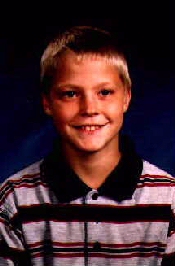 Here is a better one of Donald.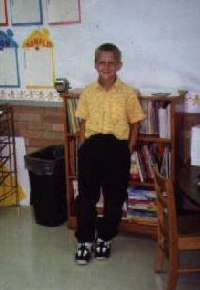 Here is a pic with Paul and Daniel.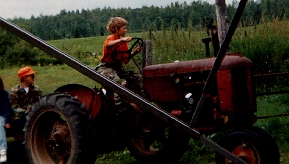 Paul and Daniel were both a bit younger in this pic than they actually are now.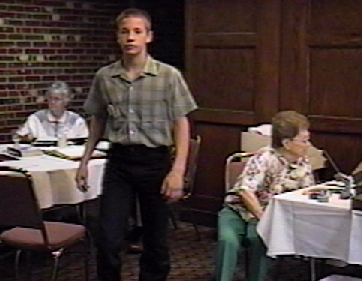 I will try and find a better pic of Daniel.
Hay, here is Buz from 1998


And here is Buz from 1999,
when his younger brother married
his cyber sweetheart.



Buzzy and I are glad to have this medium here in order that we might exercise or God given constitutional rights. We thank God most of all for our religious freedom, and our right to free speech. Keeping those in mind Buz has written a piece to help Christians who are going through tough times.
TROUBLE IN THE LIFE OF THE BELIEVER
"As Jesus passed by, He saw a man which was blind from his birth.
And His disciples asked Him, saying Master,
who did sin, this man, or his parents, that he was born blind?
Jesus answered, Neither hath this man sinned, nor his parents:
but that the work of God should be made manifest in him."
(Jn. 9:1-3)

People in our day would most likely look at a person, like this poor man who was born blind and say that he by way of chance came to this state. Others of course would look at him and say that his mother or father must have not eaten properly, or smoked, or drank, or used drugs and there by this offspring is born blind. Some folks would blame the government. Jesus however points out that none of these things need be true.
In the Old Testament we have the story of a man named Job, who was very rich. He represents the good man (or family) on whom calamity falls. Job lost everything. His belongings, his children, his health, and even the respect of his wife. His wife told him to "curse God, and die." Dr. B.R. Laken said that he didn't know whether this woman wanted to cash in Job's insurance policy or if she had just met some young buck and wanted a change.
Think of what would be said in a modern church if this was to happen to a rich family who were members of the church. Some would of course still write if off to bad luck. Others, especially the poor in the church would say that God was trying to teach that rich man what it is like to be poor. But, to many would judge this man as having sinned, or as having never been saved. All of these groups of church members could very well be wrong. Judgment must be left to God and the person to whom this has happened. Unless the sin (or a sin) is open for all the world to see. We must not judge! Even then we should not judge but, rather learn. Taking warning and looking to our selves that we do not as well fall into some sin.
If the person in the picture is truly a believer then the Holy Ghost has already reminded him (and will continue) of where he went wrong. He will work to turn him (or her) back to the way of the Lord. (But, I should not be chasing that rabbit.) I want to look at the person who has done no wrong; because Christians too often ask "why?" I have in my mind the picture of Olympic skater Nancy Kerigan who when struck by an assailant cried out in pain; "Why, why, why." This is often the picture of the believer and the church when one of us is assailed by calamity. My mind turns now to Joni Erickson Todda who as a young adult became quadriplegic. I can see her in my mind's eye. Having been placed in that rack by doctors and being turned every few hours to prevent bed sores; and her mind crying out Why, why why???? We know why now. God had a ministry for her. She now ministers daily to all kinds of persons over the radio in many states. All kinds of persons I say; both the physically challenged and them who need to be challenged in the area of faith.
In the case of the man born blind Jesus did point out that he was born blind, "that the works of God should be made manifest in him." This man was born blind for the glory of God. God's glory was first manifested when Jesus healed him, and then also later when this man who had been born blind and then could see was brought before the Pharisees and testified. He testified to the glory of God and defended the actions of the Lord before these men who wrongly judged the Lord as a sinner in that He had done this on the Sabbath day. This man will one day again stand and testify to Gods glory when the men who judged him and put him out of the temple will stand before the Great White Throne judgment. He will stand up and give testimony against them because they would not hear him when he said, "If this man were not of God, He could do nothing." (Jn. 9:33) This man being born blind was for the glory of God in his day, and for the glory of God in our day, in that his story is in our Bibles. It is also for the glory of God in that future day when righteous judgments will be passed.
Job's troubles were for the glory of God as well, in heaven before the angles. Because it was Satan who accused Job before God and brought about this trouble as a way of testing. We often call Satan the devil, and so he is. To many however forget that he is also an angel who happens to be in rebellion with God. This story shows that he does come into heaven from time to time. (I think the Bible says daily in one place) He accuses the brethren before God, and Jesus stands as the believer's avocet, or defense attorney.
Look at the story of Job in your Bible. The first chapter verses 9-12 Satan expected Job to sin because all his world was taken away. But, Job did not sin. Note his reply to this trouble in his life. "the Lord gave, and the Lord hath taken away: blessed be the name of the Lord." When Job answered in this way Satan again accused him before God and this time said;
"Skin for skin, yea, all that a man hath will he give for his life." (verse 4 ) Because of this accusation God let Satan touch Job's body. (Remember that in the Bible a man's wife is a part of his body.) and Job was infected with sore boils from head to foot and even his wife (as was afore mentioned) turned on him. Yet, for the glory of God before all the host of heaven Job did not sin. His answer: "What? shall we receive good at the hand of God, and shall we not receive evil?" Job may have been a little off on doctrine but he did not sin. In chapter 3 Job bewailed his birth as he was in despair but he did not sin.
Now God's glory will be shown forth on earth as well; because his friends have come to comfort him. With comforters like these men a stricken believer needs no devil. Instead of comfort they provide judgment. They now accuse Job of sin and of being judged of God. Many words are exchanged and great wisdom is shown through out this story. More also is shown; and that is the faith of this man Job. There in is the righteousness of Job.
"If a man die, shall he live again?
All the days of my appointed time will I wait,
till my change come."
(Job 14:14)
"For I know that my redeemer liveth,
and that He shall stand at the latter day upon the earth:
And though after my skin worms destroy this body
yet in my flesh shall I see God:
(Job 19:25-26)

NOW TAKE NOTE OF THE FOLLOWING VERSES

"Behold, I shew you a mystery; We shall not all sleep,
but we shall all be changed,
In a moment, in the twinkling of an eye, at the last trump:
for the trumpet shall sound,
and the dead shall be raised incorruptible,
and we shall be changed.
For this corruptible must put on incorruption,
and this mortal must put on immortality.
So when this corruptible shall have put on incorruption,
and this mortal shall have put on immortality,
then shall be brought to pass the saying that is written,
Death is swallowed up in victory.
O death, where is thy sting? O grave, where is thy victory?
The sting of death is sin; and the strength of sin is the law.
But thanks be to God, which giveth us the victory
through our Lord Jesus Christ."
(I Corinthians 15:51-57)

"For our conversation is in heaven;
from whence also we look for the Saviour,
the Lord Jesus Christ:
Who shall change our vile body,
that it may be fashioned like unto His glorious body,
according to the working whereby He is able
even to subdue all things unto Himself."
(Philippians 3:20-21)

"For as much as ye know that ye were not redeemed
with corruptible things, as silver and gold,
from your vain conversation received by tradition from your fathers;
But with the precious blood of Christ,
as of a lamb without blemish and without spot:
Who verily was foreordained before the foundation of the world,
but was manifest in these last times for you,"
(I Peter 1:18-20)

"And they sung a new song, saying,
Thou art worthy to take the book,
and to open the seals thereof:
for thou wast slain,
and hast redeemed us to God by thy blood
out of every kindred, and tongue, and people, and nation;
And hast made us unto our God
kings and priests: and we shall reign on the earth.
(Revelation 5:9-10)

"For by grace are ye saved through faith;
and that not of yourselves;
it is the gift of God:
NOT OF WORKS, LEST ANY MAN SHOULD BOAST,
For we are His workmanship,
created in Christ Jesus unto good works,
which God hath before ordained that we should walk in them."
(Ephesians 2:8-10)

Job trusted in Jesus even though He would not be born yet for many years and that Job did not even know His name. Yet, Job trusted in God and His promise of a redeemer. There in is the righteousness of Job! The righteousness of Job is found in faith in his and our redeemer.
God does get into this conversation that Job and his friends are having and speaks to them out of a whirlwind. He (God) points out Job's ignorance to Job, but God also points out to Job's friend their folly in their accusations of Job. God has Job friend go to Job to have him offer burnt offering for them in order to turn the wrath of God from them. In the end God restores to Job all that he had lost, and even doubled it. God even gave Job children again which also means that Job and his wife were also OK. God did not how ever give to Job twice the number of children that he had, had before. That first bunch was not lost to him but in heaven because of their godly father's life before them, before the trouble.
Now review; God may bring into the life of a believer trouble in order to awaken him, or her, to a sin in their life. Or, God may want to show forth His glory to the heavenly host, and, or, the persons around the afflicted believer, and, or person who many hear of the story and thereby believe to the glory of God.
God may also bring trouble into the life of a believer in order to judge how others treat the person on whom the trouble has fallen, or all of the above at once. An example could be a believer with a debilitating illness that will lead to death. Prayer is offered for divine healing, and the answer is no. God may be using this afflicted believer to measure others. How will they treat this brother, or sister? How does the children of this person treat their afflicted parent? How about the actions of the friends of the afflicted?
A note now to the person who may read this or hear this being already afflicted. There may be in you a cancer, or an affliction that has affected your mind. There will be a temptation to hurry the end. To use what I will call "The Kaborkean solution." You do not want to be a burden to your friends and family. But God, may be out to accomplish something by not taking you home immediately as we both know He could have. He may be out to teach someone or to judge someone. God may want you to be a witness of your faith through this affliction to His great glory. You can make out a living will to prevent your doctors from going to far. But, let God have His perfect will in you. He will reward.!!
My own Grandmother in her last days knew no one of our family but, when asked if she knew Jesus her answer was a strong YES!!! She still knew her Lord when no one else was known to her. She knew him!!
May God have all the glory, all the honor, and all the praise. Amen.
From the mind of a Simple man.
With a not so Simple God.


---
---
Click here for Buzzy's Link Page
Or click here for Buzzy's Link page without pic's.......

---
---
Would you like to write us?

Click Here
---
---
As this page comes to an end
Here is something for you to meditate on.
***********************************************************************
******************************************************************
*************************************************************
Humility Is Perpetual Quietness of Heart
*************************************************************
******************************************************************
***********************************************************************
---
---
Would you like to have a page in Tripod?
If you would.........

CLICK HERE